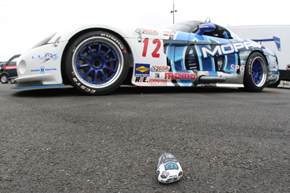 Aloha, Ore., June 17, 2009 – Portland-area resident Cindi Lux returned to her home track and her hometown crowd to do what she does best: win. In the two races she entered, the 2008 Oregon SCCA Pro Driver of the Year put her No. 12 Viper Competition Coupe on the pole for both SPO-class races and never trailed in either. Lux's return to Portland International Raceway (PIR) for the 49th Annual Rose Cup was her first trip to the largest, club racing event west of the Mississippi River in several years.
As the hometown prodigal returning to her local roots, the 12-time road racing champion's "liquid metal" livery stood out in the paddock and always drew a crowd. It even inspired one local artist to paint a rock in the car's colors.
On the track, however, there were no crowds around her once the green flag waved; the V10 powered American sports car stood out at the front of the pack. The Kumho tire-shod, front-engined Viper dominated the pair of 30 minute races. As she crossed the finish line, Lux was over 30 seconds ahead of her closest competitor. While not the overall, "Rose Cup" event, the performance placed Lux in an honored position as a Rose Cup-weekend victor. She has strong family history with this race as her father, Dick Hahn, won the inaugural Rose Cup overall in 1961 in a Ferrari Testarossa.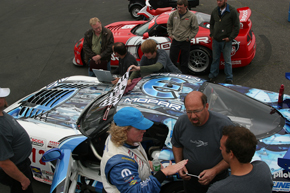 Lux now adds two more victories to a resume that already includes 50 pole positions, 80 victories, and almost 80 additional podium spots.
Quote:
Cindi Lux: "The Viper was unbelievable to drive.  It was absolutely on rails the entire weekend.  No complaints from the driver department!  It was great doing a race in our home town especially for our guys in the shop.  They hardly get the opportunity to come out to the track and watch the cars they prep actually race.  I can't tell how good it felt to get back behind the wheel again.