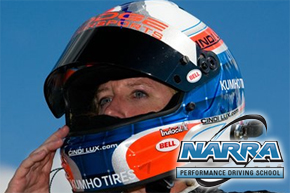 The North American Road Racing Association (NARRA), formerly known as the Viper Racing League,  and Cindi Lux announced a partnership that makes the 12-time road racing champion available as a private coach at NARRA performance driving schools across the country in 2009.  Lux is a veteran at most of North America's greatest road courses, having competed at all levels of road racing for the past 20 years.  She will be part of a three-person team of professional drivers who will be exclusively teaching to the series.
Lux has been teaching professionally for more than 15 years and has has extensive experience working with everything from street cars to purpose-built racers, with an in-depth background in chassis set up and with most data acquisition systems (AIM, MoTeC and ECT).  For the past four years, Lux has been the lead instructor at one of the most prestigious driving centers in North America, Miller Motorsports Park in Salt Lake City, UT.
Lux breaks down her coaching in the following areas:
Possible in-car instruction with appropriate safety gear
Data analysis and in-car video evaluation
Mental race preparation
Race strategy and race craft
Detailed race-weekend debriefs highlighting progress and potential improvement
Services available by the day or weekend rates
Click here for the list of 2009 NARRA-sponsored events.  Interested parties should contact Cindi directly for cost and availability.
Additional information on Cindi's qualifications and her instruction program are available throughout the web site, and in this 2-page PDF brochure.