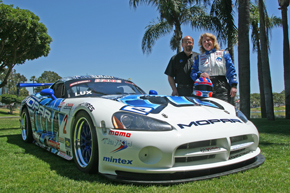 Aloha, Ore. (April 11, 2008) - Mopar announced today the addition of veteran female road racer Cindi Lux to Team Mopar for the 2008 race season.
Lux, the 1999 American Le Mans Series Women's Global GT Series Champion, will represent the parts division of Chrysler in the highly competitive, road car-based SCCA Pro Racing SPEED World Challenge GT Championship. NayKid Racing will enter the Lux Performance Group, LLC prepared and managed No. 2 Mopar Dodge Viper Competition Coupe starting at the April 20 Long Beach SPEED GT Presented by Applied Computer Solutions. The Long Beach event marks the first race of the 2008 SPEED World Challenge season for the Aloha, Oregon resident.
"Being part of the Mopar racing family holds more significance for me personally due to my family heritage," Lux said. "My grandfather started our family Chrysler dealership back in 1925 and it is still running strong today. I have many memories as a kid sweeping our parts department on weekends with all of those Mopar parts surrounding me. And now I get the opportunity to represent Mopar on the race track. That is awesome. Our team has worked so hard over the winter months on our Vipers and I can't wait to hit the track at Long Beach. What a great place to debut our new paint scheme and partnership."
The twelve-time road racing champion made her World Challenge debut at Long Beach one year ago. She finished 17th. In her career, Lux has more than 75 victories, over 150 podium finishes and nearly 50 pole positions in various disciplines of road racing. She has earned four Northern Pacific SCCA Club Racing T1 Championships since 2003. The two most recent T1 titles came at the wheel of Dodge Viper SRT10s prepared for racing by Lux Performance Group. She earned Dodge one of its greatest Club Racing accolades in 2006 by winning her second June Sprints title in the V10-powered Viper. In a limited World Challenge schedule last year, Lux took home two Piloti Rookie of the Race Awards for highest finishing rookie driver and two 11th-place finishes. 2008 marks Lux's first time as a member of the highly prestigious Team Mopar.
"We're very excited to announce Cindi Lux as our driver of the factory-backed Mopar Dodge Viper Competition Coupe in 2008 SCCA SPEED GT competition," Mopar Parts Director of Sales and Service Marketing Rob Richard said. "Mopar is a proven force in drag, drift, trail and circle track racing. We're confident that in joining forces with a 12-time champion and veteran racer, Mopar will extend its dominance into the realm of road racing. We're proud to welcome Cindi to the Team Mopar family."
The honor of joining Team Mopar and receiving official backing from the storied parts manufacturer and distributor comes only to a select group of drivers. Currently, Team Mopar members include Gary Scelzi, Ron Capps, Jack Beckman and Jerry Toliver in NHRA Funny Car drag racing. Allen Johnson represents Mopar in the NHRA Pro Stock division. Short track, open wheel racing is covered with three teams owned by NASCAR Sprint Cup driver Kasey Kahne. Kahne's USAC National Sprint and Midget Series efforts are driven by Brady Bacon and Brad Sweet. His Mopar World of Outlaw's entry is piloted by sprint car veteran Joey Saldana. Elsewhere in open wheel racing, Jerry Coons, Jr. races a Mopar-powered entry in USAC's premier Silver Crown division as well as in the National Midget Series. Mopar's SCORE off-road racing truck is shared by Brian Collins, Chuck Hovey and Larry Ragland. Samuel Hubinette carries the Mopar banner in the tire-smoking realm of Formula Drift. Lux will be Team Mopar's sole driver in World Challenge. The complete 2008 Lux-Mopar World Challenge schedule will be announced at a future date.
The No. 2 Mopar Dodge Viper Competition Coupe will carry the special, 2008 Team Mopar liquid metal livery this season. The unique vinyl wrap includes the familiar "M" that has become symbolic of Mopar's performance and quality.
When Chrysler bought Dodge in 1928, the need for a dedicated parts manufacturer, supplier and distribution system to support the growing enterprise led to the formation of the Chrysler Motor Parts Corporation (CMPC) in 1929. Originally used in the 1920s, Mopar (a simple contraction of the words MOtor and PARts) was trademarked for a line of antifreeze products in 1937. It was also widely used as a moniker for the CMPC. The Mopar brand made its mark in the 1960s - the muscle car era. The Chrysler Corporation built race-ready Dodge and Plymouth "package cars" equipped with special high-performance parts. Mopar carried a line of "Special Parts" for super stock drag racers and developed its racing parts division called Mopar Performance Parts to enhance speed and handling for both road and racing use.
Today, Chrysler LLC's Global Service & Parts division is responsible for the manufacturing and distribution of nearly 250,000 authentic Mopar replacement parts, components and accessories for Chrysler, Jeep® and Dodge vehicles sold around the world. To assure quality, reliability and durability, all Mopar parts and accessories are designed in strict adherence to Chrysler Engineering standards.