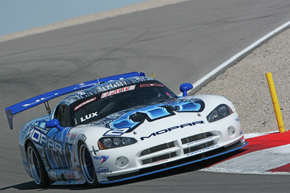 TOOELE, Utah, May 18, 2008 - Cindi Lux (Aloha, Ore.) has found a new appreciation for two things in 2008; her No. 2 Mopar Dodge Viper Competition Coupe and the intense competition of the Sports Car Club of America (SCCA) SPEED World Challenge. Since being named as the only road racer on Team Mopar in April, the combination of the 12- time road racing champion and Chrysler's parts division has proven formidable. Today at Miller Motorsports Park (MMP) in Tooele, Utah, Lux set a personal best finish in the road car-based series of fifth. The top-five came from her highest-ever starting position in the SPEED GT of third and on the heels of her 2008 debut, and previous best, ninth in Long Beach, Calif. on April 20.
Lux continues to set new standards for herself and female drivers in the World Challenge. While in only the second race of her second season in the SCCA Pro Racing-sanctioned series, the 1999 American Le Mans Series' Women's Global GT Champion now holds claim to two significant achievements in SPEED GT. In qualifying for the one hour event, Lux sped to third starting position after holding second until the final minute of the session. In starting third she became the highest qualifying female driver since 2003 (Shauna Marinus, SPEED Touring Car, Puerto Rico) in World Challenge. Even more impressive is that, with today's fifth-place result, Lux ranks as the highest-finishing woman in SPEED GT history and the highest-finishing woman in all of World Challenge since Marinus finished third in Touring Car (2003). To accomplish this in the high-powered and intensely demanding GT machines is an inspiring feat. For Lux the achievement is satisfying as a race car driver, not a female race car driver. Her gender is meaningless behind the wheel, she only wants to win.
In today's SPEED GT Utah Grand Prix, the final event of the weekend at MMP, Lux drove one of the most impressive and determined races of her remarkable career. Lux, who has 75 victories and over 150 podium finishes in her motorsports career, lost two positions on the standing start. She immediately showed the fangs of the Mopar V10-powered Viper regaining the positions within just a few short laps. Now again in direct contact with the leaders the Mopar liquid metal livery on the No. 2 was all that second-place could see in his mirrors. Like a snake coiled and ready to set-upon its prey, Lux bobbed and weaved, feinting attack lap-after-lap. On the 11th circuit of the 22-lap race she made a strong move to the inside of Brandon Davis (No. 10) but carried too much speed into the turn. Lux went off course to the outside of Turn One and returned to the track at Turn Two giving-up two spots. While still attacking Lux was able to close on leaders but was not able to make another challenge for position.
Originally used in the 1920s, Mopar (a simple contraction of the words MOtor and PARts) was trademarked for a line of antifreeze products in 1937. Today, Chrysler LLC's Global Service & Parts division is responsible for the manufacturing and distribution of nearly 250,000 authentic Mopar replacement parts, components and accessories for Chrysler, JeepR and Dodge vehicles sold around the world. To assure quality, reliability and durability, all Mopar parts and accessories are designed in strict adherence to Chrysler Engineering standards.
The SPEED GT Utah Grand Prix can be seen on SPEED Channel at 1 PM (ET), May 28.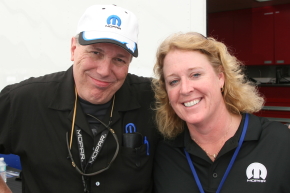 Quotes
Cindi Lux:
About the race: "I am ecstatic about getting my first top-five finish in World Challenge. Selfishly, I am disappointed that we had the 'off' going for position. The move might have been a little overoptimistic but that's the racer in me. I am not just going to sit back. I'm going to attack when I see the opportunity. While I was beating myself up a little in the car it is good for me to see how excited the crew is. For a relatively new team this is a great accomplishment. I am very, very happy to bring the whole team and Mopar this top- five."
About the progress of the effort: "Overall, I think that our program is slowly pecking away at what we need to do. We are taking it in very methodical steps. I am tickled because we are getting more and more solid without getting too uncomfortable, too fast."
Mike Stephens, Program Manager, Mopar Motorsports: "It was a great weekend for Mopar and the Viper Competition Coupe. We are delighted to see Cindi moving up through the field and running strong all weekend. We are looking forward to bigger and better things to come."