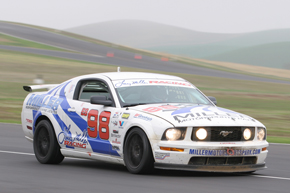 TOOELE VALLEY, UTAH (December 9, 2008) -- With 35 minutes remaining in last weekend's National Auto Sports Association (NASA) 25-hour endurance race at Thunderhill Raceway Park in Willows, Calif., the No. 98 Ford Mustang representing Miller Motorsports Park was in the lead with a two-lap advantage over the field of 68 cars.
However, as is so often the case in endurance racing, you never count your chickens before you see one walking around with the checkered flag.
That was indeed the case this time, as a mechanical failure in the differential sent the MMP Mustang to the pits and relegated the team to a 13th-place overall finish and third place in the ES class.
Entered under the Larry Miller Racing banner and sporting sponsorship from Miller Motorsports Park, the Miller Performance Training Center and BFGoodrich Tires, the car was one of the Mustang Challenge cars normally used in the MPTC's Ford Racing High Performance Driving School, modified for endurance racing with a fuel cell, different shock absorbers and auxiliary lighting. The driving chores were shared by MMP Director of Racing Mitch Wright, MPTC Director Dan McKeever and MPTC instructors Cindi Lux and James Burke.
The race, the seventh annual edition of North America's longest endurance event, was red-flagged for 10.5 hours for fog, but the finish time was extended by three hours, which resulted in a 17.5-hour race around Thunderhill's 3.0-mile, 15-turn circuit.
The competition included a wide variety of machinery, ranging from a Grand-Am Rolex Series Daytona Prototype to a highly-modified Volkswagen Beetle, with almost everything imaginable in between, and a field of 271 drivers ranging from rank amateurs to seasoned professionals.
The all-volunteer crew, led by MMP Shop Manager for Competition Vehicles Mike Morley, included Doug Graham, Logan Ewell, Dale Mead, Bo Leyva, Dan Giles, Clark Hill, Fred Lux and Scott Crossley. Hospitality and support services were provided by the staff of the Ford Racing Mustang Challenge for the Miller Cup, including Series Director Lynda Randall, Series Administrator Candice Bailey and MMP Assistant Director of Racing Jill Giles.
"It was a heart-breaker," said Wright. "The car ran like a train all day and all night, and to have victory snatched from our grasp with 35 minutes to go is tough to take. But the crew did an outstanding job, both before and during the race, and the hospitality provided by the Mustang Challenge crew made all of our jobs a lot easier.
"So we have mixed emotions, having run so well but coming up short. That's endurance racing, though, and we'll be back next year to take another shot at it."