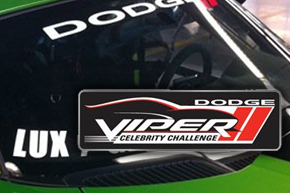 April 12, 2011 - Spring signals the start of racing season.  And what better way to start off the year than a sprint endurance race pitting some of North American motorsports best racers against each other?  That's what's happening this week at special closed-to-the-public event at Miller Motorsports Park called the Dodge Motorsports Athlete Summit.  The summit is bringing together some of the top drivers from North American racing series, including NASCAR, IndyCar and SCCA Pro Racing.
Cindi is one of the drivers that will be paired with team owners of ACR-X race cars.  Other drivers joining Cindi for this extraordinary race include Sam Hornish, Robby Gordon, Kurt Busch, Mark Hall (17-time Monster Truck Champion), Cory Hart and several others.
Cindi will be teamed up with a Dodge Viper Cup driver and will be competing against other teams in a 55-minute sprint endurance race, with mandatory pit stops and driver changes.  The race will be televised later this year, and results will be withheld until that time.