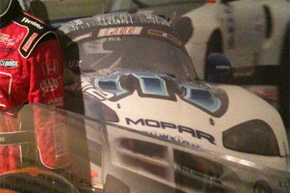 (Aloha, Ore. April 7, 2010) - In February of this year, "Women In The Winner's Circle - A Travelling Exhibit" opened at Daytona International Speedway.  The exhibit recognizes the history, growing achievements and the future growth of women in racing and includes the 12-time champion Cindi Lux, who has 75 victories and more than 150 podium finishes in her racing career.
She's proven herself at every level of competition from SCCA amateur club racing to the top tier of American sports car racing, the American Le Mans Series.
The exhibit celebrates the accomplishments of female racers across all aspects of motor sports worldwide, from the first female entry in the great Paris-Berlin race in 1901 to victories in 21st century open-wheel series, drag racing and other forms of motor sports.
When it comes to racing, "the car doesn't know who's behind the wheel," Cindi has said in numerous interviews.  This exhibit showcases how women have been able to compete and succeed in motor sports.
The exhibit is currently on display at the Daytona 500 Experience in Daytona, and will be travelling to approximately 10 other American venues over the next few years.
Women In Motorsports Foundation
Women in the Winner's Circle Founder, Lyn St. James and The Henry Ford are working in collaboration to develop the traveling exhibition. As a component of the project, The Henry Ford is developing an archive featuring women in racing, which will also be used to develop a highly experiential permanent American Auto Racing Exhibit for Henry Ford Museum.  For more information, visit www.lynstjames.com/foundation.
The Henry Ford

The Henry Ford, located in Dearborn, Michigan, was founded in 1929 by automotive pioneer Henry Ford. This history destination includes Henry Ford Museum, Greenfield Village, The Henry Ford IMAX® Theatre, The Benson Ford Research Center and The Ford Rouge Factory Tour. The Henry Ford, America's Greatest History Attraction, is the history destination that brings the American experience to life.  The Henry Ford provides unique educational experiences based upon authentic objects, stories, and lives from America's traditions of ingenuity, resourcefulness and innovation. Our purpose is to inspire people to learn from these traditions to help share a better future.  For more information visit: www.TheHenryFord.org.